"Teeth whitening will restore your teeths natural white colour and return your natural beautiful smile."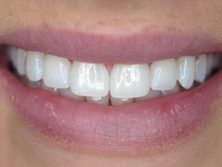 How does Teeth Whitening work?
We use a tray whitening system in Cork Dental Smiles, meaning you can easily top up when your teeth begin to discolour again. Custom-made whitening trays are fabricated by a laboratory and you can then safely whiten your teeth at home. Using our controlled whitening system, we can brighten your teeth to achieve a level of whiteness which suits your skintone. This could be the answer to enhancing your smile!
Indications
Benefits of Teeth Whitening
Each of our teeth whitening kits are custom made and enable you to whiten your teeth safely at home.
Our kits are custom made to you and have been tried and tested and use only approved and safe chemicals to achieve this.
Teeth whitening is a cost effective way to restore your smile. Starting at just €250 you can have the perfect smile you have always wanted.