White Fillings
White fillings look natural, clean and will keep your smile looking beautiful. – Cork Dental Smiles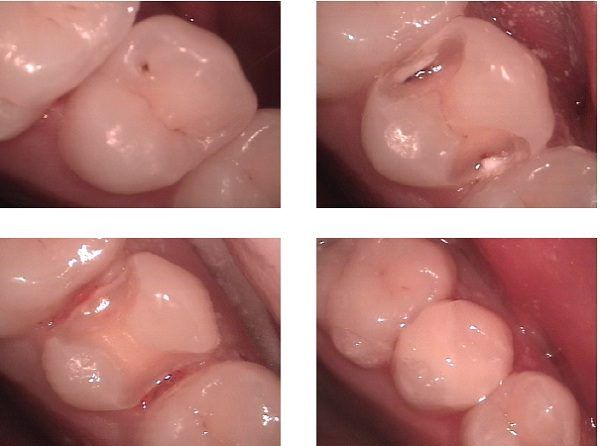 When do you need white fillings?
A filling is a direct restoration used to restore the function and appearance of damaged or missing tooth structure due to decay or trauma. White (composite) fillings are becoming increasingly popular due to their aesthetic appearance and their lack of mercury (making them kinder to the environment). The benefits of a white filling as opposed to a traditional filling is that it blends in with the colour of your teeth and isn't immediately obvious that you have a filling.
Indications
Damaged/fractured teeth
Decayed teeth
Cavitated teeth
Benefits of Veneers
The image below shows the difference a white filling makes
White fillings are much more aesthetically pleasing than traditional silver fillings due to the fact they blend in with your teeth.
The cost of white fillings has dramatically fallen in recent years and now they aren't much more expensive than traditional fillings.
The time to fit a white filling into your tooth isn't anymore than that of a traditional filling.
Testimonials
"A special word of thanks to you for your all help, advice & expertise. You patiently answered my countless questions & explained the whole process in a way that put me at ease & ensured I knew exactly what to expect with the treatment, which was fantastic."

- Jean O Sullivan

, Patient

"Maria, I just want to say thanks very much for giving me such straight white teeth. I am delighted with how they turned out and can't believe it only took 6 months, the time flew.I will definitely be recommending you to my friends. Thanks!"

- Joanne O'Callaghan

, Patient

"In the 6 months it took to complete my treatment, I was amazed at the final result and how quickly they moved into position. I am very pleased with my results. It's been practically pain free and unnoticeable."

- Sophia Breitkopf

, Patient
Ready to get started with White Fillings?
Why wait? White Fillings from €80